Price Gun Label Single-Line White Roll of 1500 Peelable Box of 10 rolls - 26mmx12mm
Streamline Your Marking Process with High-Quality Price Gun Labels
Efficiently mark your products and goods with this pack of 15,000 plain labels, designed for seamless use with the single line pricing and labeling gun. Quickly label your merchandise and have it ready for sale in minutes with these easy-to-load rolls.
Versatile Pricing Labels for a Variety of Labeling Needs
Featuring a clean and simple white design, these replacement pricing labels are ideal for a range of labeling tasks, including pricing, date-stamping, and batch-coding. Whether you operate a busy commercial kitchen, store, or canteen, these labels will help streamline your labeling process.
Dependable Labeling with Permenent Adhesive
Ensure that your labels stay in place with the permenant adhesive used on these pricing labels. No longer worry about replacing missing price or date tags, as these pricing labels will remain firmly attached to your goods. Optimize your single line pricing and labeling gun with these indispensable plain white labels.
*** Free Ireland Delivery ***
26mmx12mm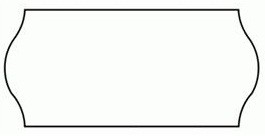 Box of 10 Rolls (15,000 Labels)
These labels can be used with the below Price Guns

 

Avery Dennison Pricing Guns

106 Price Gun

Prix Pricing Guns

Avery 1/6 Price Gun

SP1 Price Gun

6 Price Gun

Avery 1/8 Price Gun

Euro Price Gun

8 Price Gun

Contact Pricing Guns

Outdoor 6 Price Gun

8CP Price Gun

Contact 6 Price Gun

Outdoor 8 Price Gun

10 Price Gun

 

Contact 8 Price Gun

C6 Price Gun

10DP Price Gun

Danro Pricing Guns

C8N Price Gun

Puma Pricing Guns

2612 Price Gun

C10D Price Gun

 

Data-Mark Pricing Guns

C10A Price Gun

PJ8 Price Gun

2612 Price Gun

PR426 Price Gun

Sato Pricing Guns

Dataply Pricing Guns

Meto Pricing Guns 

Sato Kendo 6 Price Gun

Dataply 6 Price Gun

105 Price Gun

Sato Kendo 8 Price Gun

Datamark 6 Price Gun

2605 Price Gun

Smart Pricing Guns

Dataply DPM2612/107 Price Gun

2606 Price Gun

6 Price Gun

Dataply DPP 2612/106 Price Gun

2610 Price Gun

8 Price Gun

Dataply DPP 2612/110 Price Gun

526 Price Gun

Start Pricing Guns

Econoply Pricing Guns

626 Price Gun

6 Price Gun

 

2612 Price Gun

826 Price Gun

8 Price Gun

Jolly Pricing Gun Guns

1026 Price Gun

8CP Price Gun

JC6 Price Gun

Motex Pricing Guns

10 Price Gun

JC8 Price Gun

2612/6 Price Gun

10DP Price Gun

JC9 Price Gun

2612/9 Price Gun

Tovel Pricing Guns

LabelMaster Pricing Guns

Date Coder Price Gun

K6 Price Gun

Price Gun

Open Data Pricing Guns

K8 Price Gun

LabelTac Pricing Guns

C8 Price Gun

 

Mk II Price Gun

C6 Price Gun

TM66 Price Gun

Lynx Pricing Guns

C10 Price Gun

TM88 Price Gun

A Price Gun

C10/A Price Gun

Viking Pricing Guns

B Price Gun

 

Viking 1-Line Price Gun