80 x 70 EXTRA LONG Thermal Paper Rolls 74.5m Long (50 Roll Box) with Free Next Day Ireland Delivery.
Guaranteed by far the Cheapest Price in Ireland.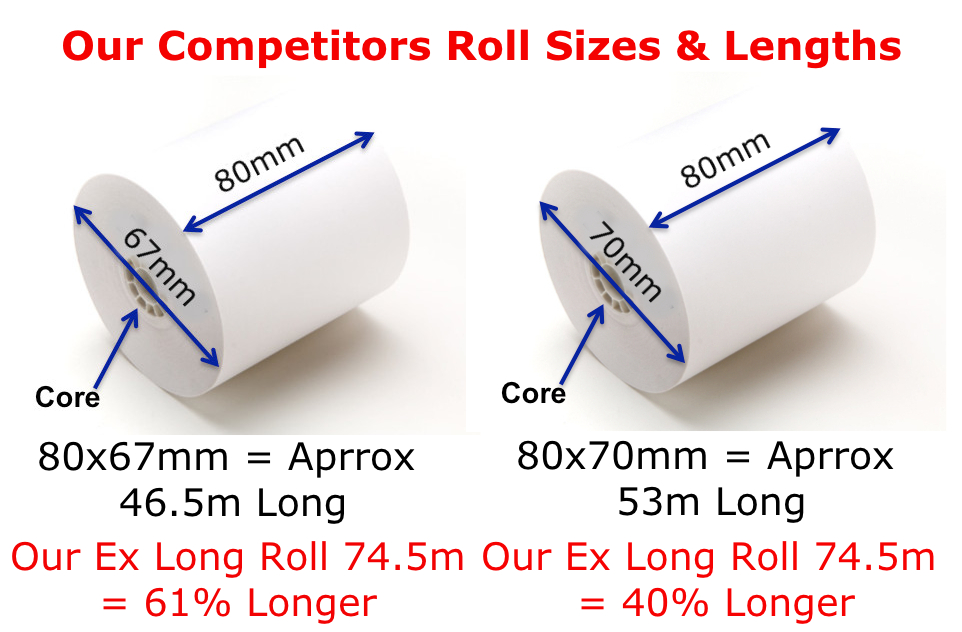 Discount Till Rolls use a lighter base 48gsm paper to maximise the meterage per roll to make our 80mm Extra-Long thermal till rolls
. , Our paper is "Epson / NCR / IBM / AXIOHM Approved".
All boxed in NEW Larger 50 Roll Boxes.
By using only OEM approved till receipt rolls you will protect the print heads on your printer from damage. Replacing print heads after using inferior thermal till rolls in your cash registers / printers can be nearly as expensive as buying a new machine. Cheaper till rolls thermal will wear out the print heads faster and will leave dust to clog up your printer and damage your print heads and printer sensors. In these cases cheaper is not always better. The only answer is - High Quality, Low Cost Thermal Receipt Paper Rolls from Discount Till Rolls the Till Roll experts.
If you are not sure which Thermal Cash Register Rolls you need Check out our Quick Find Search Box feature above. Or
, Ph: +353 (0)1 4433964 - UK Local Ph: +44 (0)20 8144 4475 and we will be more than happy to help you find what you require.